Purchase Orlimex Composite Products
Mesh
Saves time, improves schedules and saves money
The main constituent of ORLITECH mesh is 'basalt rock', one of the most common in the world, which is spun into fibres and mixed with organic resins to form bars. The production process uses very small amounts of the world's natural
resources and has a carbon footprint, some 40 times less than steel during production.
What are the main benefits of Basalt? – High tensile strength, thermal conductivity…
Read more
Carbon off-setting is recognised as a poor solution to our ecological crisis, the best way forward is to reduce our carbon footprint at source. Sustainability runs through our core and we know how important it is to reduce our environmental impact in everything we do.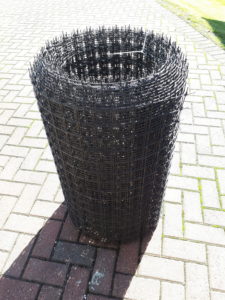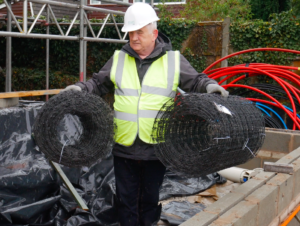 The key attribute of ORLITECH mesh is the material's weight, it's seven times lighter and two and a half times stronger than traditional steel.​
Its low weight makes it especially easy to handle, carry and transport
Transportation costs are reduced due to weight and volume.
It is easily installed by one person and makes assembly on site three times faster than with traditional steel mesh.
Reduces installation time, so speeding up schedules – get on and off site quicker
Manual handling and Health & Safety risks are greatly reduced.
ORLITECH mesh for screeds, ground bearing concrete slabs and structural toppings is supplied on a roll (22.5M -36M ), which lies completely flat once off the roll and can be easily cut with pliers.​
APPLICATIONS
ORLITECH mesh is resistant to corrosion and UV radiation, it doesn't change its mechanical features and won't cause a degradation of concrete, moreover, due to the high alkali resistance and anti-corrosion properties, the working life of concrete elements is increased greatly, making it ideal for use in chemically aggressive areas.
The mesh does not conduct electricity and is non-magnetic, it does not absorb static and is redundant to radio waves, making it appropriate for the construction and refurbishment of housing, hospitals and airports. Within concrete it resists high temperatures, up to 700°C in the long term and 1000°C in the short term.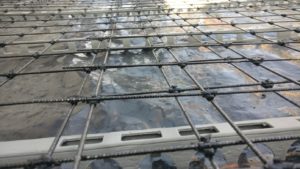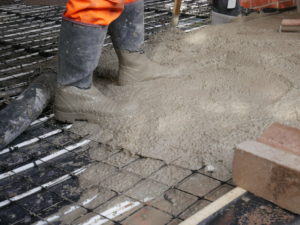 CRACK CONTROL CONCRETE SLABS
Concrete slab minimum C30 mix with slab thickness between 100mm and 200mm.
50mm sand blinding to compacted type 1 sub base material. Slab laid on compacted hardcore between 100mm – 600mm if the depth…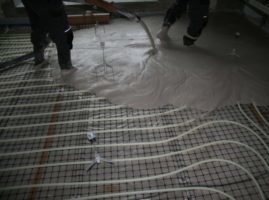 CRACK CONTROL
IN LIQUID SCREEDS
For crack control of liquid screed in thicknesses from 30mm – 80mm ORLITECH mesh 2.2mm 100×100 in
either 30M 0.75M rolls or in sheet form should be laid in the bottom third of the screed . . .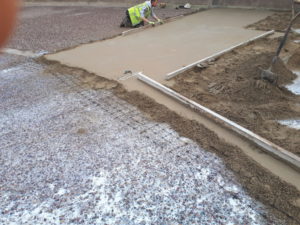 SEMI DRY TRADITIONAL
SCREEDS
For crack control of semi dry screeds in thicknesses from 30mm – 80mm ORLITECH mesh 2.2mm 100×100 in either 30M 0.75M rolls or in sheet form should be laid in the middle third of the screed, laps no less than 100mm zip tie together…
Standard sizes, length х width, mm (ft)
1220х2440х1220 (4х8х4)
1250х2500х1250 (4х8х4)
1500/1525x2440/2500 (5x8)
1500/1525х3000/3050 (5х10)
Thickness, mm
6-40
Surface type
Smooth/smooth (F/F), smooth/mesh (F/W)
Film density, g/m2
120, 220
Formaldehyde Emission Class
Е1
Water Resistance
High
Density, kg/m3
650-700
Moisture content, %
5-15
Edges sealed with
Acrylic paint
Produced under STO 09-09-001-2019 "Film Faced Burch Plywood"
| Indicator | | Thickness, mm | Value |
| --- | --- | --- | --- |
| Ultimate static bending strength, min MPa | Along the grain of face veneers | 9-40 | 60 |
| | Against the grain of face veneers | 9-40 | 30 |
| Strength in tension along the grain, MPa, max | | 6-8 | 30 |
| Static bending elasticity modulus, min MPA | Along the grain | 9-40 | 6000 |
| | Against the grain | 9-40 | 3000 |
SEND US YOUR ENQUIRY
We will get back to you in less than a day and free of charge
By contacting us, you will not only receive advice with selection of the optimal supplier and product, but also a consultation with experts regarding the current market conditions and its predicted development.