Purchase Orlimex Composite Products
Bars
Composite (FRP) reinforcement bars ORLITECH ® BAR made of basalt fibre.
In cooperation with our manufacturing partner, BINEVIR, we introduce FRP bar to the UK construction market. This is one of the best options to replace steel concrete reinforcement to prevent corrosion, reduce the weight of concrete elements including thickness of precast panels and reduce carbon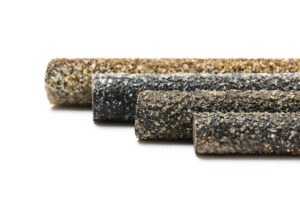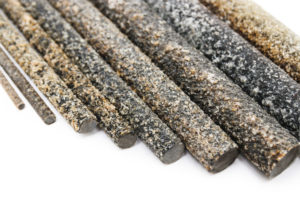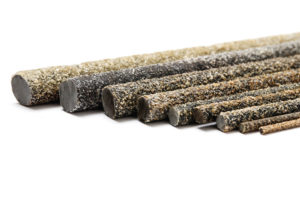 The ORLITECH ® BAR is a high-strength and durable basalt fibre bar with a diameter from 2.5 — 32 mm. This reinforcement is produced in straight bars with a length of 2 to 12 m. Reinforcement with a diameter of 4 to 10 mm is also available in coils of 50-100M. ORLITECH ® BAR has the advantage over steel reinforcement in faster installation and less connection. We offer bars in two variants, with a sand surface treatment and without a sand surface treatment. This surface treatment consists of applying a silica sand before the pultrusion process. This process gives the bar an improved bond to concrete by up to 60%
The use of ORLITECH ® BAR composite reinforcement increases the lifetime of concrete structures as it is unaffected by the presence of chlorides and carbonation. In fact, research suggests the carbonation process will improve the strength of the concrete in the long term. ORLITECH ® BAR has a high resistance to corrosion in acidic, alkaline and other corrosive environments.
High tensile strength (1200 MPa)
Low density (2.0g / cm3)
Low thermal conductivity (0.46W / m2)
Absolute environmental and fire safety
ORLITECH BAR composite reinforcement has undergone physical and mechanical tests at various universities around the world and is certified against ASTM D7957 – currently the only standard for the use of FRP in reinforced concrete.
Possible use of composite reinforcement:
A — Civil construction:
Reinforcement of concrete structures
Reinforcement of foundation slabs
Repair and reinforcement of concrete floors, brick and stone walls
Reinforcement and mainly the weight reduction of monolithic and structural elements
B — Construction and Agriculture:
In the manufacture of concrete barriers and thin-walled elements
Reinforcement of concrete and anhydrite floors
Reinforcement of concrete tanks, sewerage shafts and covers
Reconstruction and redevelopment of buildings and historical objects
Strengthening of water works and coastal structures
Construction of silage pits, gutter reinforcement and troughs
C — Road and railway engineering:
Reinforcement of road, pavements, motorways and airfields
Weight reduction and reinforcement of bridges and bridge structures
Reinforcement of retaining walls, road, railway embankments
Reinforcement of concrete sleepers for rail and tram networks
Fencing and non-corrosion barriers
Click here for test results basalt bars.
*Resin transition temperature – however ACI 440 states "Because FRP reinforcement is embedded in concrete, the reinforcement cannot burn due to a lack of oxygen"
SEND US YOUR ENQUIRY
We will get back to you in less than a day and free of charge
By contacting us, you will not only receive advice with selection of the optimal supplier and product, but also a consultation with experts regarding the current market conditions and its predicted development.